(Source: Home Sweet Home & Visual Capitalist)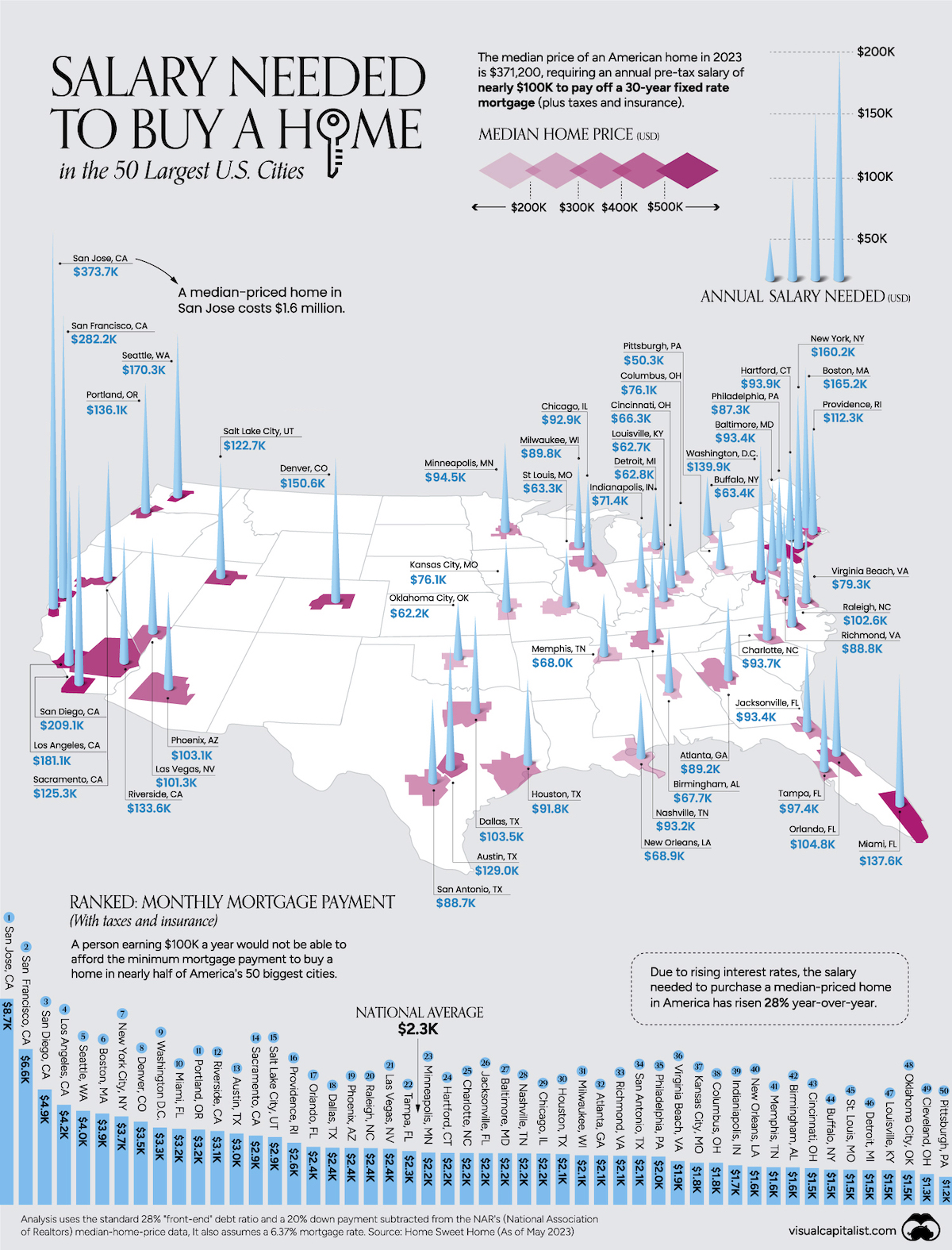 What You Need to Earn to Own a Home in 50 American Cities
Once a fundamental part of the American dream, the ability to own a home is drifting farther and farther away for many Americans.
Between skyrocketing prices, stagnating wages, and now rising interest rates, the deck seems to be increasingly stacked against home ownership.
Using May 2023 data tabulated by Home Sweet Home, we map out the annual salary needed to afford a 30-year mortgage (at 6.37%) to buy a home in America's 50 most populous metropolitan areas.
The monthly minimum mortgage payment includes taxes and insurance as well, and is capped at roughly one-third of the income. This analysis also assumes that the homeowner will put down a 20% down payment.
The Least and Most Affordable American Cities to Own a Home
At the top of the list, and at the very west of the country, San Jose is the least affordable city to own a home for the average American.
One would have to earn at least $374,000 a year to afford a $1.6 million dollar home in the city.
To put those numbers into perspective, the median American annual income is $75,000, about one-fifth what's required to buy a home in San Jose.
Other Californian cities, San Francisco (ranked 2nd), San Diego (3rd), and Los Angeles (4th) all require an annual income of at least $180,000 to attempt home ownership within their metropolitan boundaries.
Boston (ranked 6th) and New York (ranked 7th) represent unaffordability on the East Coast, both requiring at least $160,000 a year to buy homes there.
It's not just the coasts that are expensive however. To buy a home in Denver (ranked 8th) and Salt Lake City (15th) means earning more than $120,000 a year.
However, cities in the Midwest and South, like Pittsburgh, Detroit, Oklahoma City, and Louisville, are far more affordable, requiring less than $63,000 a year to buy a home.
Interest Rates Rock Home Ownership Chances
Aside from the obvious price differences in housing markets, a key factor that has elevated income requirements across the board is the rapid rise in interest rates in the last year. In fact the average 30-year mortgage has pushed past 7%, the highest it's been since the 2000s.
This means that while the median price of a house in San Jose has actually come down between 2022 and 2023, the minimum monthly payment has increased from $7,717 to $8,720 this year.
So to afford a median-priced home in the country, an American needs to earn closer to $100,000 a year, up from $75,500 in 2022. And even then, they would be priced out of owning a home in nearly half of the 50 largest cities in the country.
As a result Americans may yet further delay home ownership. Renting is now a far more attractive option, thanks to the biggest difference between rent and mortgages in over 50 years.
Where Does This Data Come From?
Source: Home Sweet Home (HSH).
Note: HSH used different sources for their median home prices, mortgage rate, property taxes and home insurance figures for their analysis. Please visit their website for more information.
Other: If other personal debts exceed 8% of one's given monthly gross income, this may increase the salary needed to qualify for a mortgage.
The full story is available: What You Need to Earn to Own a Home in 50 American Cities (visualcapitalist.com)